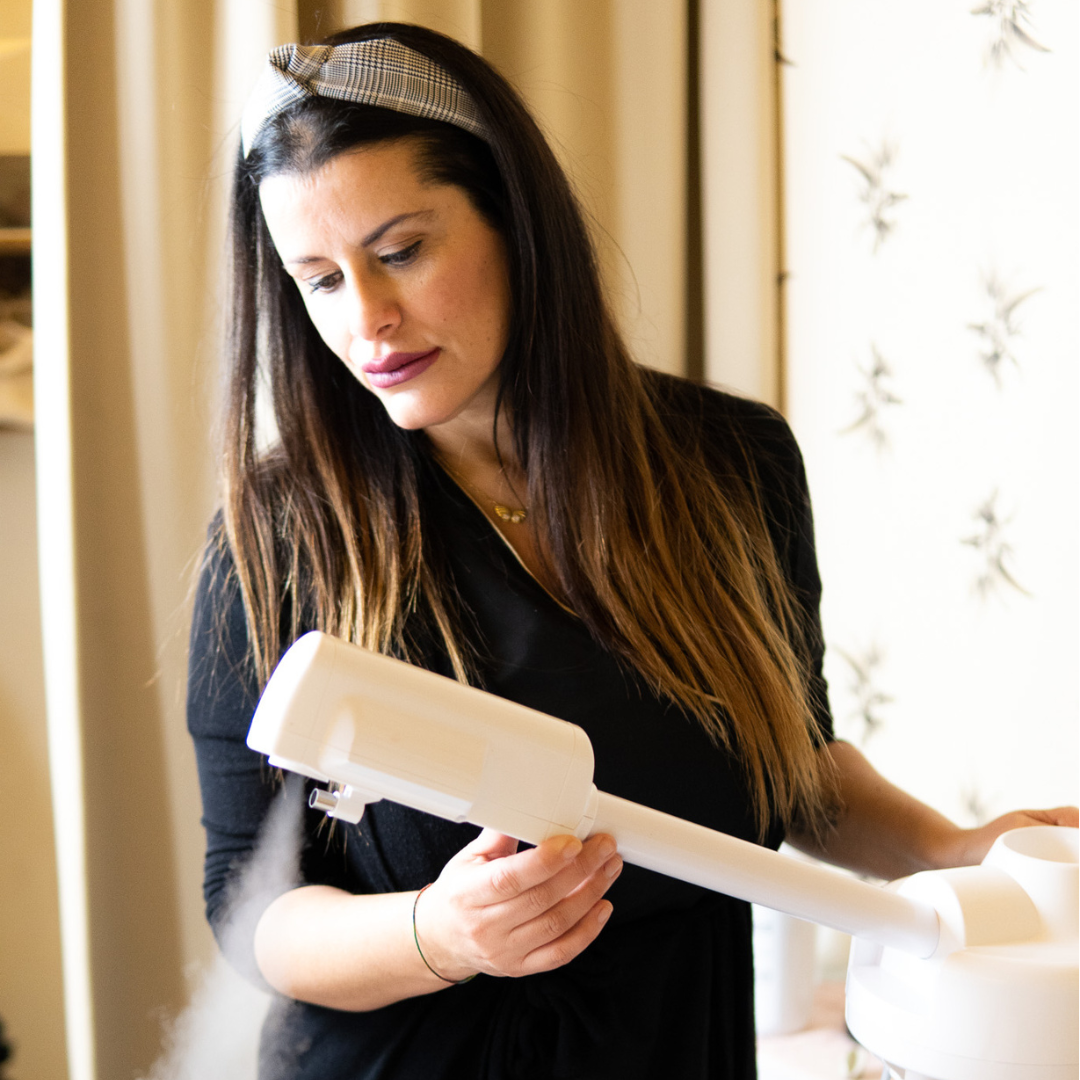 Toskani Advanced Facial Aesthetics and Peeling
Non-invasive and immediately effective advanced aesthetic protocols and a long-standing staff experience are the best guarantees for natural, young, lasting beauty.
Book here
CLEANSING BEAUTY ROUTINE: entails cleansing the face and neck with a steamer to dilate the pores and moisturise and cleanse the surface layer of the skin. Warm washes scented with DōTerra Essential Oilsstimulate the microcirculation and prepare the skin for the final massage with a Hyaluronic Acid pack that restores radiance and luminosity to the face.
Duration: 45 min 45€
TOSKANI PEELING: is a peeling session at least 2/3 times a year that helps maintain optimal skin healthand improves skin texture, firmness and radiance while, at the same time, having a preventive action against the natural ageing process of the skin.
Long-term results are based on cell renewal and also on a good preparation for exfoliating treatments that cannot be separated from the Sensi Skinfood Beauty Routine, which goes hand in hand with the 7 Wonders of Tuscan Peeling:
- Anti-Ageing + HA for ageing skin with wrinkles based on Hyaluronic Acid and Peptides to visiblyreduce wrinkles, prevent their formation and provide deep, long-lasting hydration
- Anti-Pollution for damaged and devitalised skin with a pool of vitamins A, B3, C and E for an antioxidant and regenerative effect at the cellular level
- Lipo Proteoglycans are based on molecules of natural origin which deeply moisturise and liftdehydrated and asphyxiated skin that needs to stimulate collagen production and increase skin density
- Purifying for oily, impure acne-prone skin that needs a substantial rebalancing of the lipid layer, closing pores and reducing inflammation and acne blemishes
- Radiance based on the latest generation illuminating complex that penetrates and releases 5different active agents into specific layers of skin affected by dyschromia and subject to skin photoaging
- Sensitive Skin is based on natural extracts whose desensitising properties make reddened and irritated skin exceptionally fresh, relaxed and moisturised
- Vitaflash, based on Collagen, Elastin, plant tensides and Vitamin C for dull skin which needs an instant revitalising flash effect for special occasions
Duration: 50 min 90€
RECOMMENDED COURSE OF 4 SESSIONS
320€ PAYABLE IN 2 INSTALMENTS
LIFT UP & GLOW RISING MASSAGE: consists of a highly moisturising cupping / maderotherapy / bamboo treatment, regenerating the skin by accelerating collagen and elastin production with a natural lifting effect. The treatment involves the application of a mask with hyaluronic acid and pomegranate.
Duration: 50 min 80€
CELL REGENERATION PLUS: is a dual-action treatment with Duosomal Toskani pearls for skin renewal andimproved dehydrated, sensitive, couperose and oily skin with acne tendency, then followed by a gentle manual massage.
Duration: 50 min 80€
RECOMMENDED COURSE OF 6 SESSIONS
480€ PAYABLE IN 2 INSTALMENTS
BOTOX-LIKE MASSAGE: consists of a cupping / maderotherapy / bamboo anti-ageing treatment with a filler effect, which, thanks to the massage and Collagen Peptides mask, stimulates elastin, revitalising and illuminating the skin and redefining and reshaping facial features.
Duration: 50 min 90€
DETOX FOR SENSITIVE SKIN: is a treatment that rids the skin of toxins and promotes cell renewal thanks to purifying pumpkin and sage extracts and hazelnut active ingredients. The treatment includes the application of an alginate mask for sensitive skin, ideal for oxygenating the skin from the inner layers by stimulating microcirculation.
Duration: 50 min 60€
The T-SHAPE FACE is a state-of-the-art advanced aesthetics device combining three powerful technologies that act simultaneously to produce a lifting effect that visibly reduces wrinkles after the first session.
Duration: 30 min 60€
RECOMMENDED COURSE OF 8 SESSIONS + 2 FREE OF CHARGE 
450€