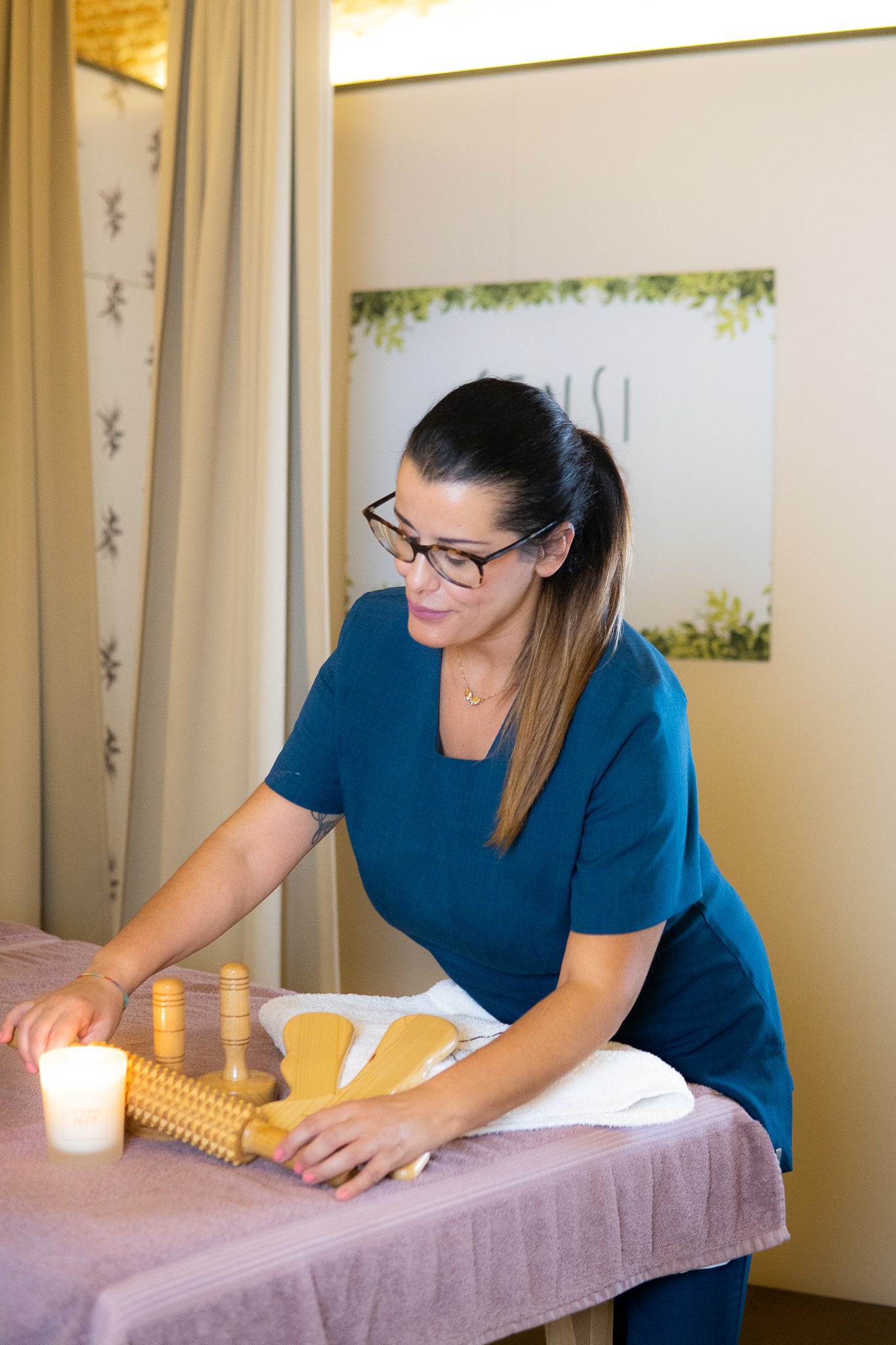 Advanced Body Aesthetics and Biokalchi Eden
Non-invasive and immediately effective advanced aesthetics protocols and experienced staff guarantee natural, youthful and lasting beauty.
Book here
SLIMMING RITUAL: an exclusive Biokalchi Eden, rich in active and thermoregulating substances to guarantee visible aesthetic results at the very first session, characterise innovative and effective treatmentsfor the abdomen and hips based on fennel, ginger and lipid-reducing active substances, which drastically reduce fluid accumulations and promote reshaping of the figure to make you feel better.
The Eden '4-Axis' method is designed for the following:
•       abdomen, to perform a slimming, lipid-reducing and swelling-inhibiting action;
•       thighs and buttocks, effectively combating cellulite, reducing the 'orange peel' effect, and reducing swelling and fat deposits;
•       legs, to perform a draining and firming action, restoring shape to the legs, improving the appearance of stretch marks, skin elasticity and firmness;
•       arms-neck-collar-neck to achieve an anti-ageing, toning, and plumping action and to reduce skin laxity.
Duration: 60 min 100€
RECOMMENDED COURSE OF 5 SESSIONS + ONE COMPLIMENTARY 
SESSION 500€ PAYABLE IN 2 INSTALMENTS
BODY MADEROTHERAPY: is a combination of innovative manual techniques of advanced aesthetics and psychophysical wellbeing which, in a single session, helps the body to dispose of excess fluids and, thanks to the unclogging of tissues in the abdomen, helps regulate the intestines for proper functioning, improvingblood circulation and oxygen supply to the cells.
Duration: 50 min 80€
BODY CUPPING: is a massage technique that involves suctioning the skin using special glass cups that, byconveying a minimum of heat, promote blood circulation in the treated parts, dampening the pain of muscle contracture, fluid stagnation and localised adiposity.
Duration: 50 min 80€
BAMBOO BODY: is a technique that exploits the qualities of bamboo reeds to perform a deep massage with a draining and decontracting effect.
Duration: 50 min 80€
MANUELA SHALA: is an innovative massage technique that uses tissue loosening to regularise the intestinesfor proper function and improve tissue oxygenation for those suffering from oedema, water retention and heavy legs.
Duration: 50 min 100€
DETOXINATING DRAINAGE WITH BANDS: where a precious bandage, with a pool of Guarana and Fucus algae active ingredients promote lymphatic drainage and gives your legs immediate lightness, tone and freshness with the subsequent draining treatment. 
Duration: 50 min 70€
T-SHAPE BODY: is a latest-generation advanced aesthetics machine that combines three powerfultechnologies that simultaneously bring about a considerable localised reduction in adipose volumes and skinlaxity for an immediate increase in blood circulation and lymphatic drainage to improve fitness. The T-SHAPE body treatment visibly reduces cellulite and reshapes the circumference by firming up the tissues.
Duration: 30 min 60€
RECOMMENDED COURSE OF 8 SESSIONS + 2 FREE OF CHARGE 450€
PRESSOTHERAPE: is for those who want to feel fit in just a few minutes after a day of running, wearinghigh heels, experiencing physical exhaustion at work if you stand a lot, or, conversely, sitting too much.
Benefits:
improves circulation by alleviating muscle and joint problems
improves the lymphatic system by alleviating fibrous, adipose and oedematous cellulite imperfections.
Recommended for those who suffer from water retention and have heavy, aching legs. Duration: 30 min 30€
RECOMMENDED COURSE OF 8 SESSIONS + 2 FREE OF CHARGE
240€ PAYABLE IN 2 INSTALMENTS