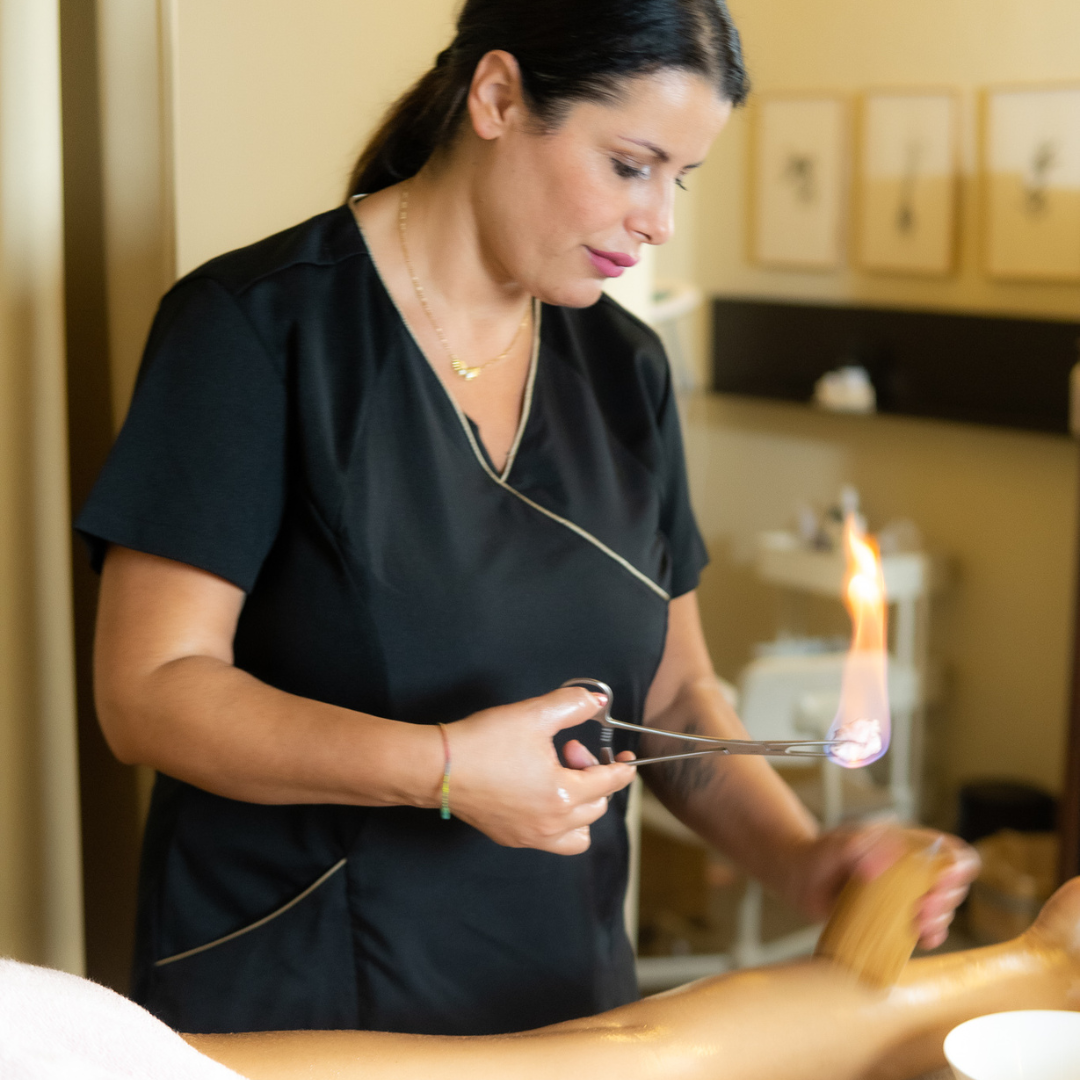 Holistic Massages and Spa Beauty Day
Relax by choosing from our offerings one that best meets your needs
from simple relaxation massages totreatments with more 
comprehensive and lasting effects.
Book here
FOOT REFLEXOLOGY WITH MOXA: combines reflexology with Moxa, which works externally on the body, bringing internal benefits. By massaging a reflex point on the foot, the function of that organ is stimulated. 
Duration: 40 min 60€
HEAD CONNECTION: is a relaxing massage with Hazelnut Oil which reactivates the scalp's circulation and makes your hair more beautiful and healthier, preventing it from falling out.
Duration: 30 min 45€
DECONTRACTURING: is a massage with warm oils to help soothe and relax the body's muscles, bringing significant benefits to the back, neck, shoulders, and calves.
Duration: 30 min 45€
SHIRODHARA: is an Ayurvedic massage of the ancient Shirodhara practice characterised by a continuous flow of warm oil poured over the forehead throughout the treatment, giving the mind and body a deep andlasting feeling of harmony, relaxation and wellbeing.
Duration: 60 min 90€
HIMALAYA SALT STONE MASSAGE: is a rebalancing and energising massage performed with hotHimalayan Salt stones rich in 84 precious trace elements and a blend of customised DōTerra Essential Oils. It soothes pain, relieves tension, stimulates metabolism, and improves blood circulation while simultaneously naturally having a solid purifying, detoxifying, and cleansing action.
Duration: 60 min 90€
HIMALAYA SALT MASSAGE HEAD & BODY - MY. ORGANICS: is a complete detox massage for the mindand body  enriched with a scrub composed of Himalayan and Dead Sea salts dissolved in an infusion ofaromatic herbs, Neem oil and Essential Oils specific for each type of scalp; the ritual has the following benefits:
improves circulation
stimulates metabolism 
strengthens the immune system cleanses it from toxins
Duration: 60 min 90€
revitalises tones and re-epithelializes
soothes, purifies and normalises stimulates the hair bulb
exfoliates the scalp and gives hair natural volume
Duration: 30 min 50€ 
on the body and scalp
Duration: 90 min 140€
CHERRY PILLOW MASSAGE: in which cherry pits are placed in padded cushions, can rapidly accumulate heat and release it slowly thanks to the natural air chamber. The massage combines the functional with the sensory, relieving muscle tension and pain,  promoting relaxation and psychophysical wellbeing, eliminating toxins and increasing oxygenation of the tissues, which, thanks to Sensi Skinfood Hazelnut Oil, a powerful natural antioxidant, are deeply moisturised and elasticised. 
Duration: 60 min 90€
STONE MASSAGE: in which numerous hot stones are placed on the body to treat various symptoms and ailments to release muscle tension, relieve joint stiffness, reduce stress levels, and restore harmonybetween body and mind by harnessing the power of heat.
Duration: 60 min 80€
SENSI SALT RITUAL: is a natural scrub with Dead Sea salts and precious DōTerra Essential Oils for exfoliating, nourishing and revitalising purposes, followed by Himalaya Salt Stone Massage.
Duration: 80 min 120€
CANDLE MASSAGE: in which the warmth of the wax, composed of vegetable oils and butter that deeply moisturise and nourish the skin, fluidises the massage movements reminiscent of the "Hawaiian" massage, releasing tension while affording a feeling of overall wellbeing that stimulates all senses. 
Duration: 60 min 90€
PINDASWEDA: is an Ayurvedic massage performed with Pinda, heated bags filled with healing herbs, Himalayan Salt and DōTerra Essential Oils chosen according to personal Dosha. The relaxing, de-contracting and beneficial effects on the lymphatic system of this massage make it ideal for those suffering from rheumatism, arthritis, and neck pain.
Duration: 60 min 90€
CUIR CHEVELU - HENRI CHENOT & MY. ORGANICS: After applying specific essential oils, Himalayanand Dead Sea salts and an infusion of aromatic herbs, the scalp is massaged to relieve compression and tension in the neck and shoulders. Drainage moves the lymph, laden with waste and toxins, using a vibration device, which stimulates the chromo puncture points located on the energy meridians to improve circulation and oxygenation of the tissues, bringing clear benefits to baldness and thinning hair.
Duration: 60 min 90€
SWEDANA: is an Ayurvedic healing steam bath ideal for giving the skin softness and radiance and getting rid of stress build-up:
relieving muscle contractures
eliminating toxins from the body
draining excess fluid
deeply purifying the skin
SWEDANA PURITY: is an antioxidant body scrub to purify the skin in depth with an Ayurvedic steam bath to loosen muscle contractures, eliminate toxins in the body, drain excess fluids and release stress, followed by a massage.
Duration: 60 min 120€
THALASSO SPA: is a sensorial, but also draining, lipid-reducing and metabolism-stimulating treatment that combines Macrocystys Pyrifera algae leaves, harvested in Brittany and dried at low temperatures, with Dead Sea Salt scrubs and algae with essential and vegetable oils with high active percentages and selective functions.
Duration: 80 min 140€
CHROMEOTHERAPY: s purpose is to look beautiful and healthy. Skin cannot only be treated with high-quality ingredients because, for example, the emotions we feel also have implications that can affect the body's and face's muscular tissue. Chromoaesthetics, the latest evolution of colour therapy, harnesses the energy of one or more specific colours to remedy blemishes and thus improves the individual's emotional wellbeing.Science (Popp - Mandel) has long shown that colour has a beneficial effect on people, thanks to visual perception but also skin perception because each colour corresponds to a certain
frequency of light. The skin perceives these waves and sends specific messages to our cells and brain, affecting emotions.
Duration: 60 min 90€
DIEN CHAN: is Vietnamese multi-facial reflexology and the result of studies and experiments by Professor Bui Quoc Chau, who developed a method that, through a massage, presses specific points on the face or body that reflect dysfunctional organs or areas which, thanks also to the use of original instruments,promotes energy harmonisation, improves the skin, increases microcirculation, brightens complexion, stimulates collagen and elastin production, rehydrates dry skin and reduces dark spots.
Duration: 60 min 100€
SPA BEAUTY DAY: takes place in an elegant and quiet space reserved for 2 ½ hours for body and facial treatments to celebrate anniversaries, hen and stag (bachelor) parties, birthdays and much more.
Duration: 2h 30min 240€ without an aperitif
390€ with aperitif for up to 10 persons