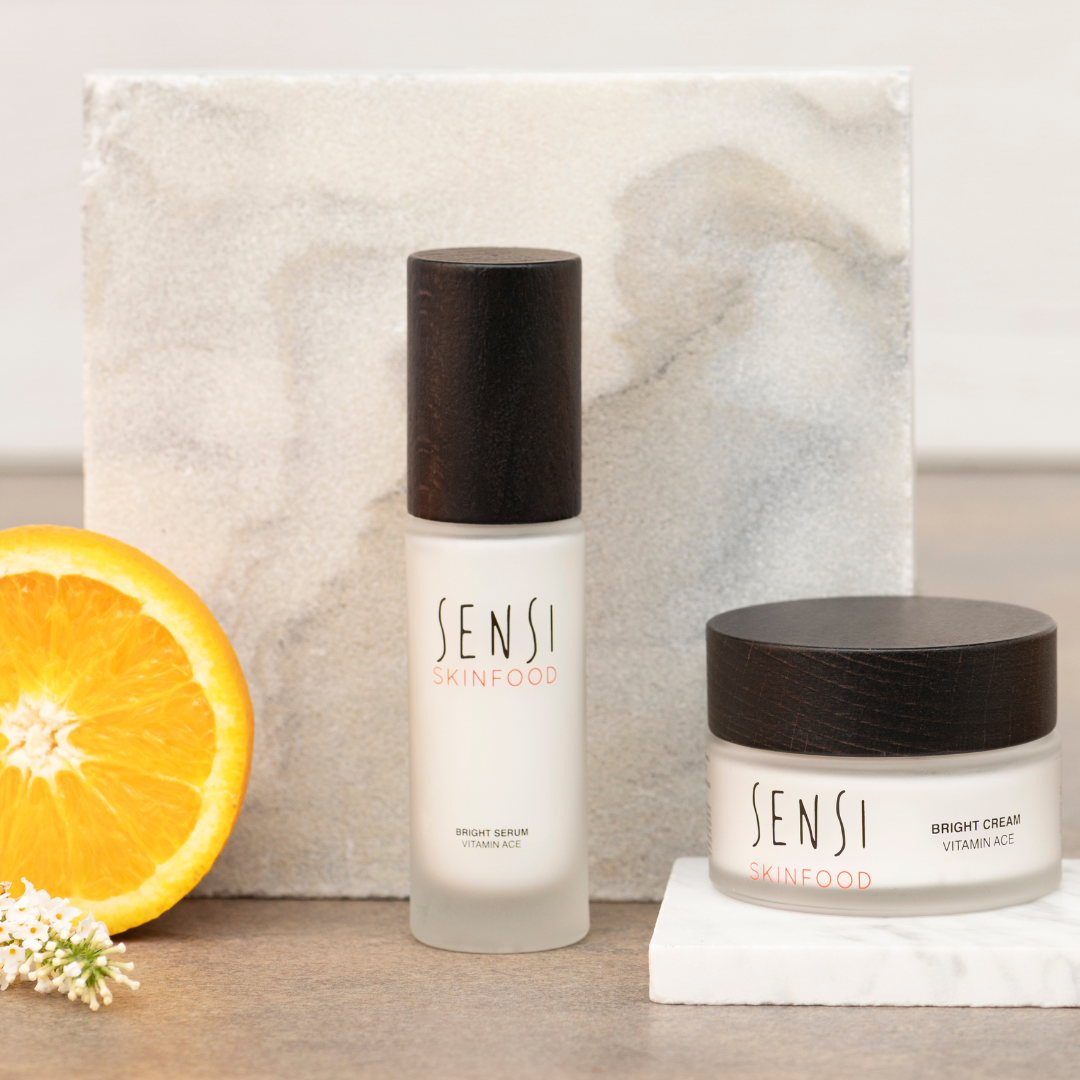 Do you know which are the best vitamins for the face?
They are definitely A, C and E and they all perform essential functions for different skin types.
In particular, vitamin A promotes cell renewal, makes the skin more elastic and improves its hydration. For this reason, it is good for dry skin and for treating menopausal skin, as it slows down the appearance of wrinkles and minimizes those already present.
Also having a powerful sebum-regulating effect, it is also used to treat acne-prone skin.
One of its derivatives is retinol which is often used in the formulation of skincare products.
Vitamin A, like its derivatives, is photosensitizing, which means that it makes the skin more sensitive to the sun's rays. For this reason it is recommended not to use cosmetics with vitamin A when pregnant or breastfeeding.
Vitamin B is represented by a group made up of 8 types, many of which are used to improve skin texture and soothe redness and irritation.
Among these there is certainly vitamin B3, known to perform the barrier function of the skin and for its rebalancing action that helps reduce the appearance of dilated pores, dark spots, wrinkles and imperfections.
Another vitamin is B5, known as pantothenic acid, which helps cell renewal and also has an effective soothing function, ideal for sensitive and reddened skin.
Vitamin C is one of the best known and is very important because it facilitates the production of collagen, making the face brighter and also performing an important function against spots and scars.
It is a powerful antioxidant, ideal for an effective anti-aging action, for regenerating the skin, supporting cellular energy metabolism.
In daily skincare it can be used both in the morning and in the evening, although it is preferable to use it in the morning because it helps to brighten the skin and also after an exfoliation and before hydrating with a special cream.
It is recommended to use a serum with ACE vitamins between the ages of 30 and 40 for a preventive action and in very prolonged cycles after the age of 40 when the production of collagen begins to decrease.
A perfect combination is certainly represented by the serum and the cream with vitamins ACE because both perform a complete action of protection and deep hydration, preventing the skin from "pulling".
Sensi Skinfood has formulated both the ACE serum, to completely protect the cells, stimulating the functions of the skin which is firmed, toned and luminous, and the ACE cream to perform a deep antioxidant action, regenerate skin tissues and stimulate collagen synthesis .
Both Sensi Skinfood ACE serum and cream contain Ascorbyl Glucoside, a form of vitamin C with superior stability in cosmetic formulations, a powerful antioxidant that increases collagen production, repairs damage caused by solar radiation, prevents lipid oxidation and appearance of acne in young people.
Our products at ACE
Bright Serum Vitamin ACE

Face serum with ACE vitamins that prevents damage caused by solar radiation, treating the symptoms of skin aging.

Find out more

Bright Cream Vitamin ACE

Face cream with ACE vitamins which counteracts the effects of photoaging, preventing damage from solar radiation and protecting against skin ageing.

Find out more